Indblik
A year of not staying home
Another year has passed at STAY HOME – and what a year! A lot has happened since last summer. We have been out and about meeting people, attending conferences, writing blog posts and articles, presenting our research in many different ways. In other words: we have not at all stayed at home.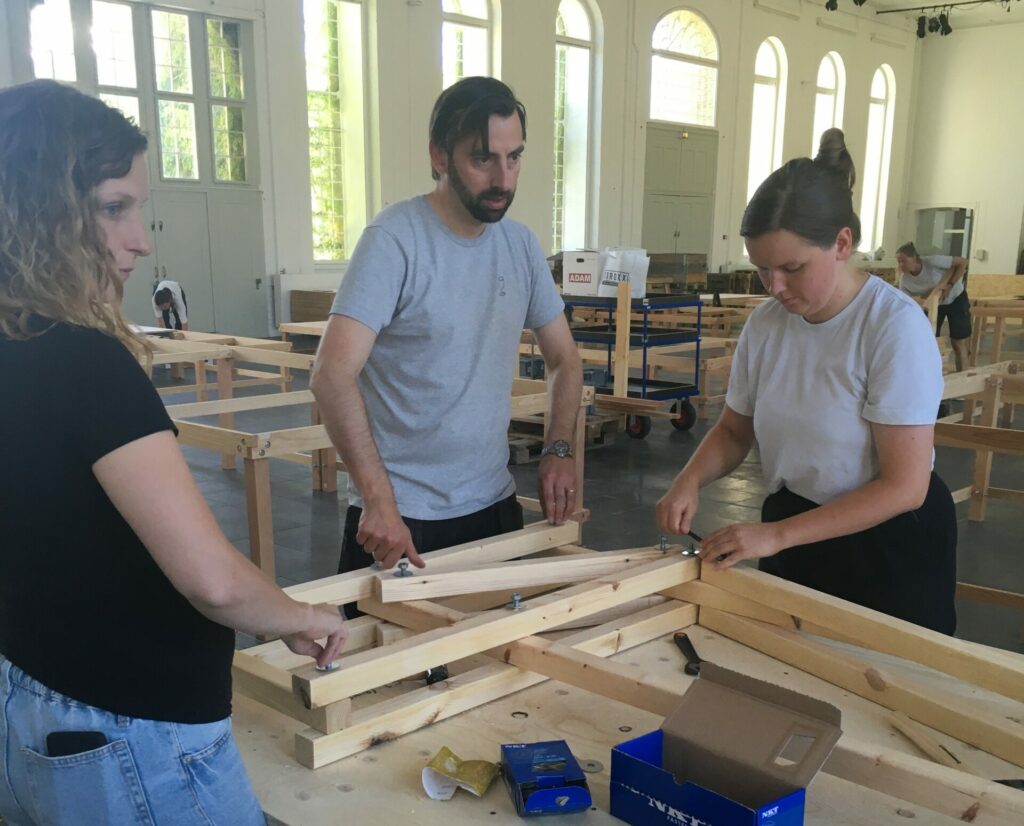 Exhibiting research
We began the fall semester of 2022 by finalizing and building our installation IF THESE WALLS COULD SPEAK. The installation had been underway for more than a year developed through interdisciplinary workshops, design sketching, composing of sound collages, and presentations of the process and outcomes to each other and our perspective panel. It all culminated in the opening of the exhibition BEHAVIOUR/WELFARE at the Royal Danish Academy – Architecture, Design, Conservation on September 15 2022. The installation had been selected for the exhibition along with 24 other projects.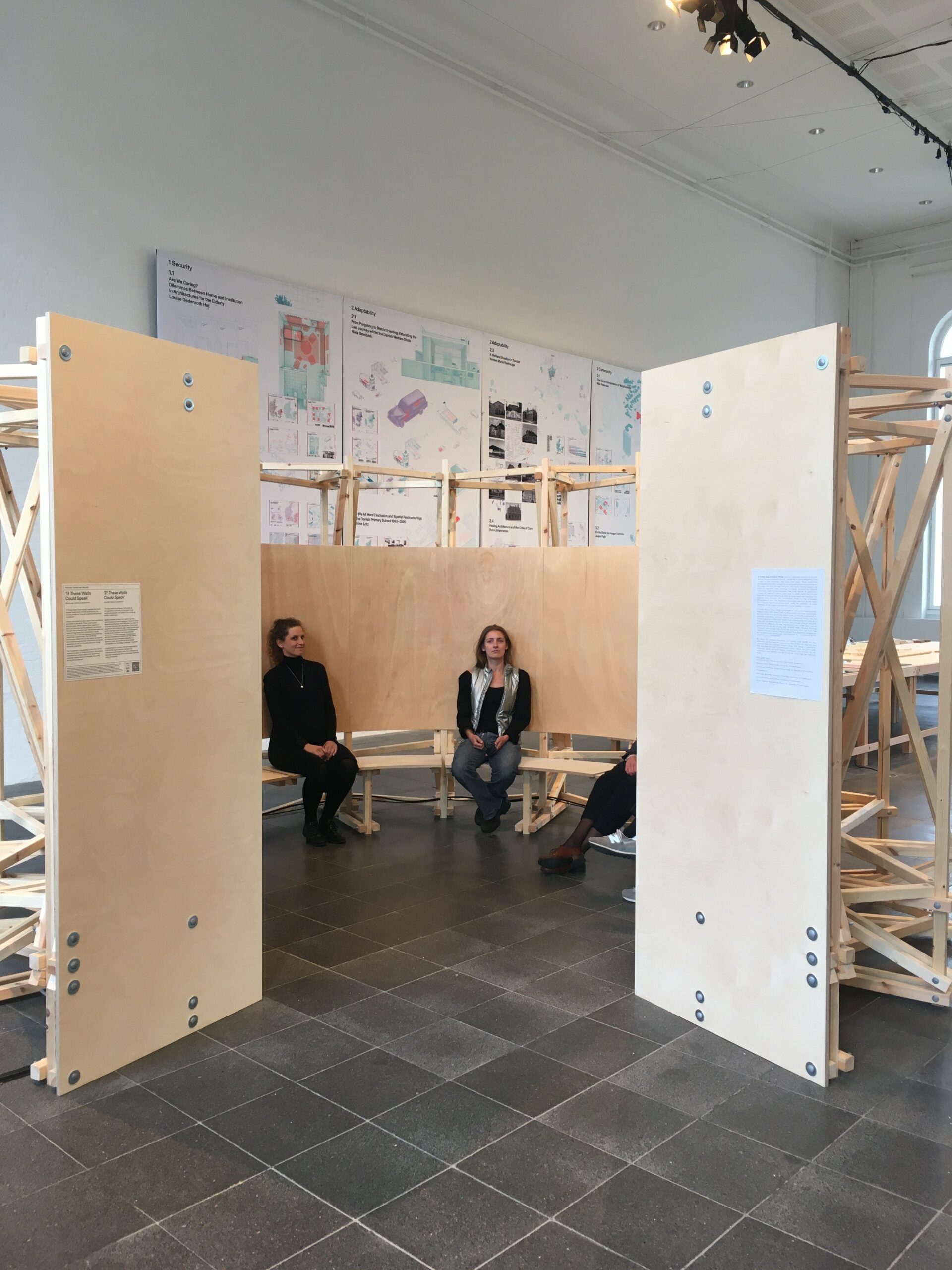 IF THESE WALLS COULD SPEAK is a spatial and auditory installation that explores the multifaceted experiences of the home during the pandemic. The visitors of the installation were invited to enter the wooden construction to take a seat and listen to the walls. Sound collages echo along the whispering wall designed to make the sound travel. The closer you sit to the wall, the louder the sound. The sound collages are made of fragments from interview recordings documenting different experiences from the first lockdown in Denmark from the project The Digitization of Everyday Life during the Covid-19 pandemic in Denmark (The VELUX Foundation) and some of our own interviews. They recall themes of uncertainty, collapse of everyday contexts, and ways in which digital technologies mediated or disrupted interactions. With the installation we encouraged reflections on the messy, composite, and diverse experiences of the home during the pandemic to call for considerations on future domestic practices. IF THESE WALLS COULD SPEAK is developed as an interdisciplinary project by the core team of STAY HOME: postdoctoral researcher and architect Nicholas Thomas Lee, PhD candidate and Science and Technology Studies scholar Katja de Neergaard, PhD candidate and historian Katrine Rønsig Larsen, PhD candidate and theologian Anne-Milla Wichmann Kristensen, PI and professor of Church History Mette Birkedal Bruun, and editor and sociologist Emma Klakk. We have benefitted immensely from collaborations with composer Finn Svanholm, architect Anders Drøidal (OFR Design + Arkitektur), architect Peter Alexander Bullough (SUPERNATURE), Olivia Toftum, the STAY HOME perspective panel, Standard Practice, the archive of The Digitization of Everyday Life during the Covid-19 pandemic in Denmark, and all our interviewees. Furthermore, we thank the Carlsberg Foundation for funding our research and STARK GENTRÆ for sponsoring materials for the installation and assisting us in the reuse of the installation and the materials afterwards. Read more about the interdisciplinary process and outcomes of the installation project in our latest research blog post: Finding a home for interdisciplinary research: Dissolving disciplinary boundaries through the development of an audio/spatial installation.
IF THESE WALLS COULD SPEAK is not the only installation that came out of STAY HOME. Postdoctoral researcher and architect Nicholas Thomas Lee has additionally exhibited his piece Vanity Chamber at Design Museum Denmark as part of the exhibition The Future is Present.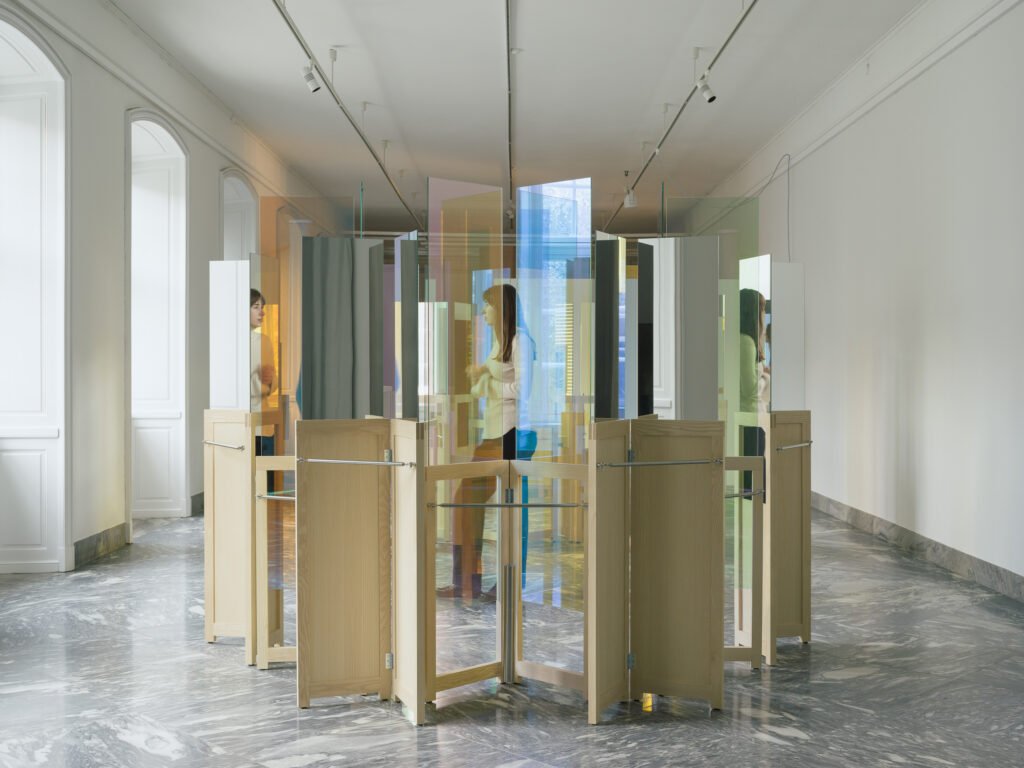 Vanity Chamber is an installation made of dichroic glass and double-sided mirrors. When you walk through the installation, you will see yourself, glimpses of other museum guests, and reflections of the architecture of the building. The installation refers to, among other things, the many hours spent in front of screens in video calls during the pandemic; situations where we stage and present ourselves and our homes while simultaneously observe others and their homes. Vanity Chamber is part of Nicholas' Research by Design project at STAY HOME and Centre for Interior Studies at the Royal Danish Academy – Architecture, Design, Conservation. It is designed in collaboration with Peter Alexander Bullough, who together with Nicholas operates under the name SUPERNATURE. The exhibition The Future is Present runs until December 31, 2024.
The creative processes of our installations have taught us a lot about interdisciplinary collaborations, disseminating research in untraditional ways, and communicating between disciplines, methods, and mediums. All of these are outcomes we keep developing and want to share with other research groups.
Our international conference
The fall also featured our international conference STAY HOME: New Perspectives on the Home. The conference gathered scholars from Europe, North America, Asia, and Australia and from disciplines such as architecture, science and technology studies, theology, history, sociology, cultural studies, religious studies, interior design, anthropology, literary studies, and philosophy. The two-day program was packed with four keynote lectures, thirteen paper presentations, presentations by the STAY HOME-team, a visit in our installation IF THESE WALLS COULD SPEAK, and many fruitful discussions.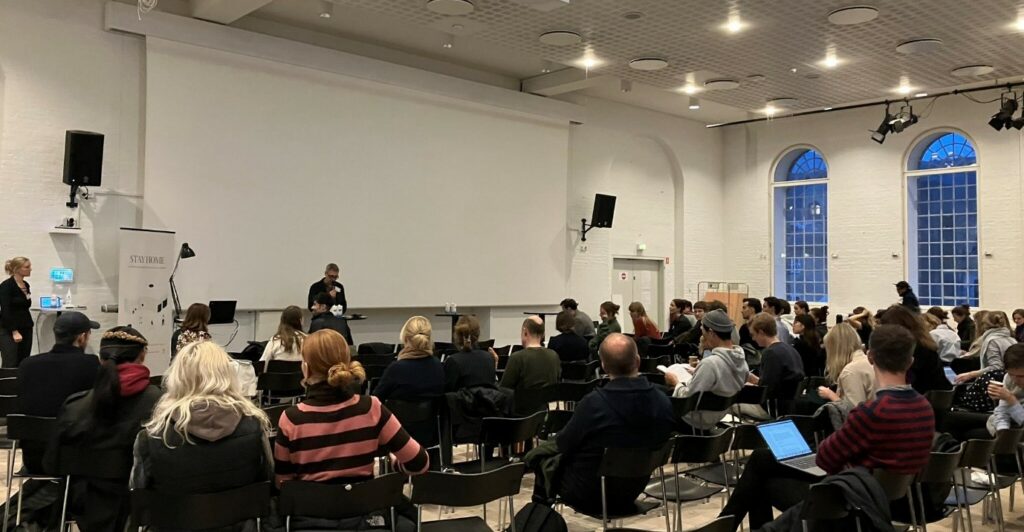 The keynote speakers were Paul Dourish (Professor of Science and Technology Studies at University of California Irvine), Hanna Reichel (Associate Professor of Theology at Princeton Theological Seminary), Joanne Begiato (Professor of History at Oxford Brookes University), and Beatriz Colomina (Professor of the History of Architecture at Princeton University School of Architecture). Based on research in each of their discipline the keynote speakers offered their perspective on the home. In combination with the paper presentations, they presented a multifaceted picture of the home as a normative ideal, as a phenomenon constructed by emotions and relationships in past and present, as an experience connected to neighbourhoods, farmlands, and home countries, and as a place of labour, leisure, trauma, and surveillance.
We have received a lot of positive feedback from the participants about the radically interdisciplinary set-up and the rich and nuanced content of the conference. We really enjoyed and benefited from all the interesting encounters at the conference and wish to maintain these new scholarly connections. Initially, we have asked some of the speakers to write blog posts for our research blog based on their conference presentations. You can read the following six conference blog posts on our blog: Not because of your brown skin… Pandemic stigma, stuckness, and social infrastructure by anthropologist Marie Stender and architect Lene Nordberg from Aalborg University, Close to Home. The emotional Spaces of the Home in eighteenth- and nineteenth-century Britain by professor of history Joanne Begiato from Oxford Brookes University, Revealing Wickedness of Home by architect Johan Liekens from KU Leuven, Against the Romances of Belonging by associate professor of theology Hanna Reichel from Princeton Theological Seminary, "Feeling at home" in out-of-home residential care by professor of interior design Suzie Attiwill from RMIT University, and Writing Home: Nineteenth-Century Sailors' Personal Logbooks by senior lecturer in English Literature Emily Cuming from Liverpool John Moores University.
Research publications
Even though we have thus been out and about exchanging with other scholars, we have of course also been in our offices writing up research. Our publications cannot, however, fully comprehend and represent our research endeavours. Research is about discussing, presenting, getting feedback, asking questions, and collaborating. With that said, we are proud to present the latest STAY HOME journal article by postdoctoral researcher Nicholas Thomas Lee: An atomized interior: Exploring a morphology for a pandemic home published in Interiors. Design/Architecture/Culture in February 2023. In his article, Nicholas explores the concept of 'openness' by rethinking the established boundaries and functions of the home. During the pandemic, activities previously placed outside the home moved into the home, which highlighted the challenges of open and 'mono-functional' rooms. Nicholas conducts Research by Design where he investigates possibilities and limitations of designs through physical 3D models of homes.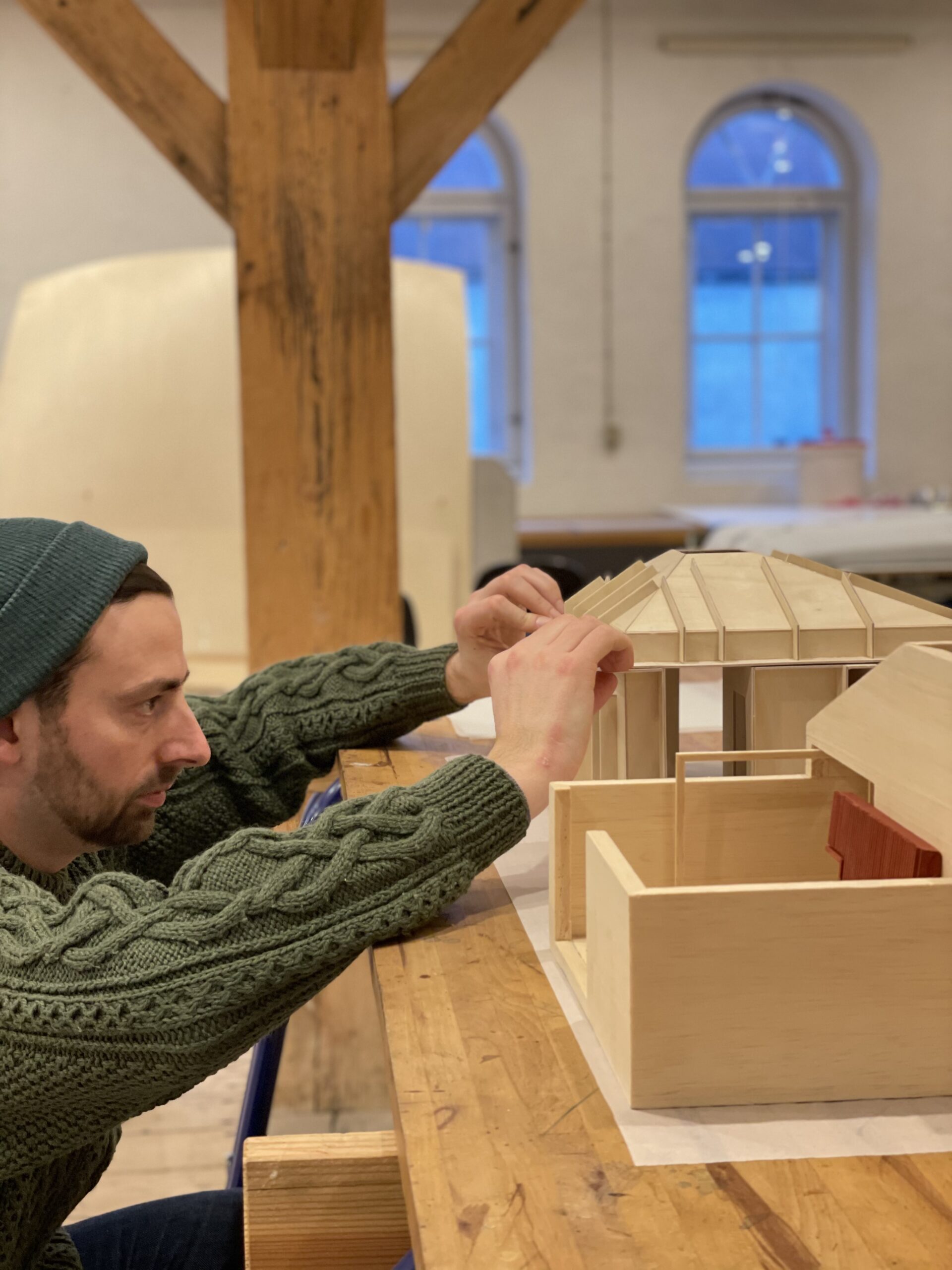 More publications are on their way and the first dissertations are reaching the finish line. Stay tuned for announcements of new publications and invitations to PhD defences.
Outreach
At STAY HOME we aim to disseminate our research and interact with people outside of academia alongside our academic publications and conferences. The past year has been no exception and we have hosted and attended different outreach activities.
In November PI Mette Birkedal Bruun and PhD Student Katrine Rønsig Larsen gave a public lecture about the Home at the Royal Danish Academy of Sciences and Letters. The lecture explored the nuances and changes of the home with examples from past and present. Mette and Katrine referred to the boundaries between private and public, home and workspace, and safe and unsafe homes. You can watch the lecture (in Danish) online here.
In April, a group of high school students from Akademiet for Talentfulde Unge (The Academy of Talented Youth) visited us at the Faculty of Theology. We had invited the students to participate in a workshop about the home and qualitative research. In collaboration, PI Mette Birkedal Bruun and Editor Emma Klakk facilitated a workshop where the students carried out their own small research projects about the home. They formulated research questions, collected data through interviews with volunteers and presented their findings at a mini-conference with research posters.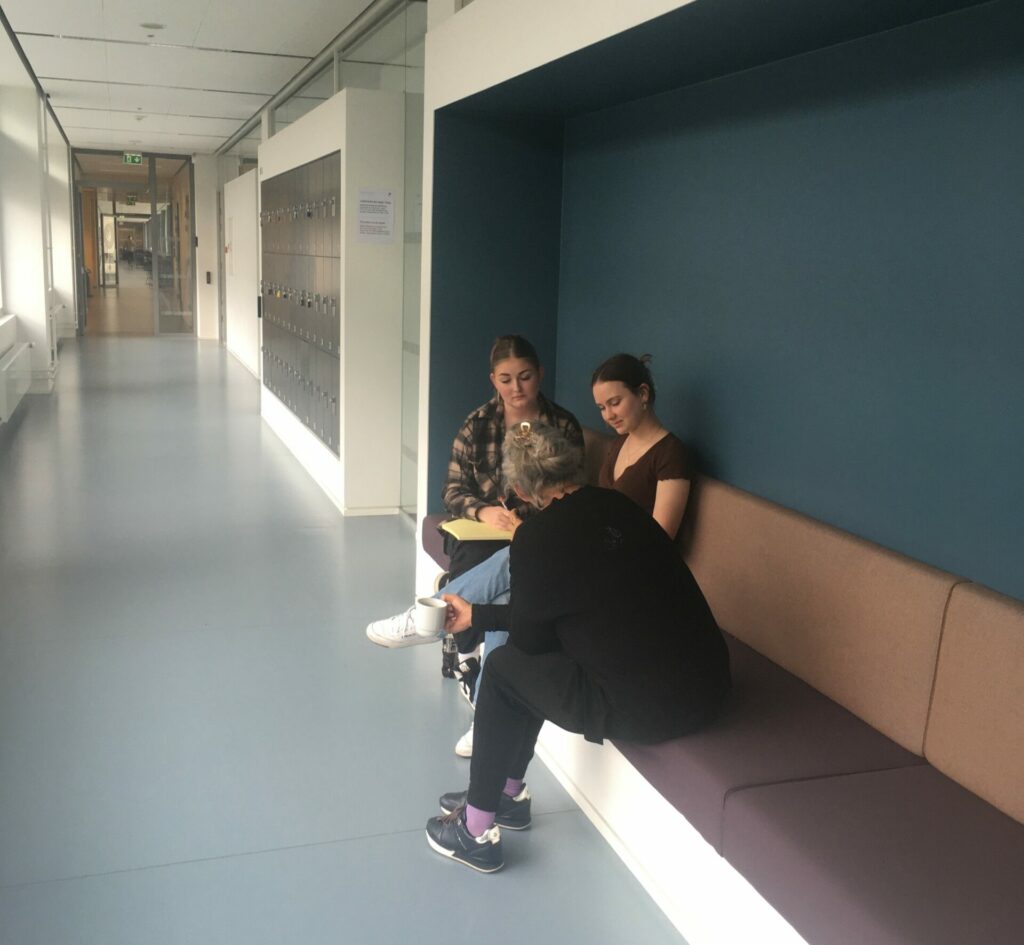 We experienced great commitment and interest from the high school students, and their qualified questions and creative presentations contributed with new perspectives on the home. Read more about the workshop here.
Also in April, we had another visit to the Royal Danish Academy of Sciences and Letters. During the Danish Science Festival Forskningens Døgn PI Mette Birkedal Bruun and co-PI Karen Vallgårda gave a joint public lecture at the academy. The lecture examined the family in past and present. Mette and Karen presented historical examples of the ideal and the lived experiences of family life followed by a lively discussion with the audience. You can watch the lecture (in Danish) online here.
In June, Mette and Karen also attended Denmark's democracy festival Folkemødet. Mette participated in a panel about how we are going to live in the future hosted by the Royal Danish Academy of Sciences and Letters and the Carlsberg Family. Additionally, Mette and Karen participated in a panel about family constellations in past, present and future hosted by University of Copenhagen.
On our website, we also engage in conversations with citizens about their diverse experiences of home. Our most recent citizen interviews are with Radwan, who is a Syrian refugee living in Denmark talking about home and belonging (in English), and with a group of high school students talking about their experiences of home during corona (in Danish).
New collaborations
We enjoy meeting other researchers and practitioners dealing with different aspects of home. These new encounters can foster and inspire new ideas, projects and collaborations.
In March 2023, two researchers from the unit of Social and Clinical Pharmacy at the Department of Pharmacy at University of Copenhagen reached out to us. Professor and clinical pharmacist Lotte Stig Nørgaard and external lecturer and sociologist Janine Traulsen have initiated a project on Hospitals in the Home and are looking to form an interdisciplinary team of researchers within home studies and health care research. The first meeting between PI Mette Birkedal Bruun, editor Emma Klakk, Lotte and Janine resulted in an interview for our website with Lotte and Janine about Hospitals in the Home and their consequences for the experience of home as well as for patients, relatives, and issues related to health equity. You can read the article (in Danish) here. We have met a few times since March and are working on new projects and events. You will hear more about this new and exciting collaboration in the future.
Another inspiring collaboration, dating back to the preparations of IF THESE WALLS COULD SPEAK, involves the recycling project STARK GENTRÆ. GENTRÆ sponsored the materials for the installation with the inherent condition that we re-exhibit the installation or reuse the materials for other purposes after the first exhibition period. At the moment we are looking for new venues to exhibit the installation and are looking forward to sharing more about the journey of the installation. You can read the interview with our collaborator and national project manager at STARK, Kent Fonseca, about GENTRÆ and recycling practices.
Moving forward
At the moment, we have one event planned for the coming semester. On November 30 2023, Nicholas Thomas Lee will host the symposium The Domestic Fantastic at The Royal Danish Academy – Architecture, Design, Conservation in Copenhagen. The symposium will address the role that prospective houses, homes and domestic habitats can have on driving beneficial spatial, social, and environmental outcomes at a societal level. Academics and architectural practitioners are invited to discuss research and built works. International keynote speakers participating in the symposium include, Anna Puigjaner (MAIO Architects), Sean Canty (Studio Sean Canty/Harvard GSD), Cathelijne Nuijsink (ETH Zürich) & Gry Worre Hallberg (Sisters Hope / Sisters Hope Home). Stay tuned on our website and social media channels for more information about this symposium and other events, publications, and outreach activities.
Please do not hesitate to reach out if you have ideas for collaborations, have relevant research to share, or want to hear more about our project.